As I said before, I've just read "Brick Lane" by Monica Ali and I totally fell in love with it. I borrowed it from the library only because I liked the title (lately I'm only looking for novels set in London) and it was a positive surprise. It's a choral novel even if the main point of view is Nazneen's, a Bangladeshi woman relocated to London through an arranged marriage to a man nearly twice her age. The books tells her story, but also many other of the people of Bangladeshi origin she meets, with a look on what happens in her country of origin through what's happening to her sister Hasina. The book is not properly set in Brick Lane, maybe "Mile End" would have been a better title, but if you're familiar to that part of East London, there are many places that can be easily recognised. The plot is pleasant and interesting, characters are well depicted, the descriptions are vivid and the reader's interest is always kept alive. I loved seeing the main character growth: at first she's submitted to her husband, unhappy and prefers taking refuge into her past and happy childhood rather than taking pleasure in daily life. Then she learns English, she starts earning her own money, she gets a lover who helps her to see over the four walls of her apartment. In the end she realizes who she is and what she wants to be, so she gets rid both of her husband and lover and opens a sewing workshop with some friends of her and finally fulfill her desire to ice-skating even in a sari.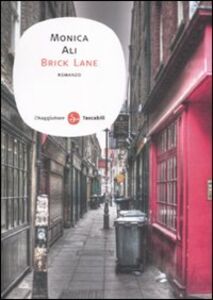 If you want to visit Brick Lane you have to hop off at Aldgate and walk for a 5 minutes. Besides the street art, the first thing that strikes the attention is the Old Truman brewery, once home to London's largest brewery and now location to a hive of creative businesses like independent shops, galleries, markets (only at the weekends), bars and restaurants.
If you keep walking along this long lane, you will find The Cereal Killer Cafe that sells over 100 different types of cereal from around the world. You can eat there and they have vegan and gluten free options.
Another well known place is the Beigel shop, open 24/7 whose menu is focused on beigels (not bagels, it keeps the yddish pronunciation) baked in the traditional Jewish style (it's being boiled in water before baking, a step that produces its crisp crust and moist, chewy interior) with  a lot of tasty fillings. It also serves pastries, cakes and sweets as well as white, rye and black bread. It's not expensive, but it has no gluten free option.
If you raise your eyes, once you pass under the railway bridge, you will see the 123 building that is a four-storey mini department store packed with recycled clothing.
And on the less known part of Brick lane, just crossed Bethnal Green Road, there's Tatty Devine my favourite handmade jewellery shop, where you can find some original, playful, colourful, laser cut acrylic things. There's another shop in Covent Garden, but I use to go there.
TRACK OF THE DAY: Brimful of Asha- Cornershop